Yin Yoga is a slow, deep, unwinding practice. Working with our allies of gravity, leverage and time, Yin practice nourishes and tractions open our core joints. As we gently release habituated holding patterns, we increase range of motion and stimulate the flow of life force. We are all unique - no two bodies are alike. Grounded in the knowledge that there are endless variations in human anatomy, we have no static ideals of "postures." There is no " right way" to look. Yin practice teaches us to cultivate shapes that flow from our unique bodies in a spirit of freedom, contentment and gratitude. Click here for more info about classes at Santa Monica Yoga.
HALE LUYA
Yin Yoga
Kauai, HI
Check back for upcoming classes and workshops at Denise's Kauai, Hawaii studio location—or join the email list below for updates!
Denise has been exploring yoga, energy flow, and community connectedness for over 50 years. Dedicated yogini and surfer, her teaching blends movement, insight, clarity, humor and compassion. Denise has shared her expertise in group classes with people of all ages, in private lessons and workshops, at events and festivals, and with celebrity clientele including Madonna, Kareem Abdul-Jabbar, Jane Fonda, and Quincy Jones.
Denise's exploratory approach to life brought her to yoga as a teenager. She practiced with Yogi Bhajan in the late '60s, trained in Aikido with Robert Nadeau Sensei and Sadao Yoshioka Sensei in the '70s, taught for Bikram in the '80s, studied with Pattabhi Jois in India and taught Ashtanga in the early '90s.
Denise began working with Paul and Suzee Grilley in 1990 as Yin Yoga was evolving and she fell in love with the deep Yin practice. She continues to study with the Grilleys and has taught in the Yin lineage for over 25 years. She considers Yin Yoga the essential foundational lifelong practice and loves guiding students into its deep, nourishing flow.
Denise teaches regularly in the LA area and at the yoga studio on her organic farm on Kauai's North Shore.
Squat Song!
Join the movement! Watch Denise's "Squat Song" video here and learn more about the benefits of squatting at www.SquatEverywhere.com.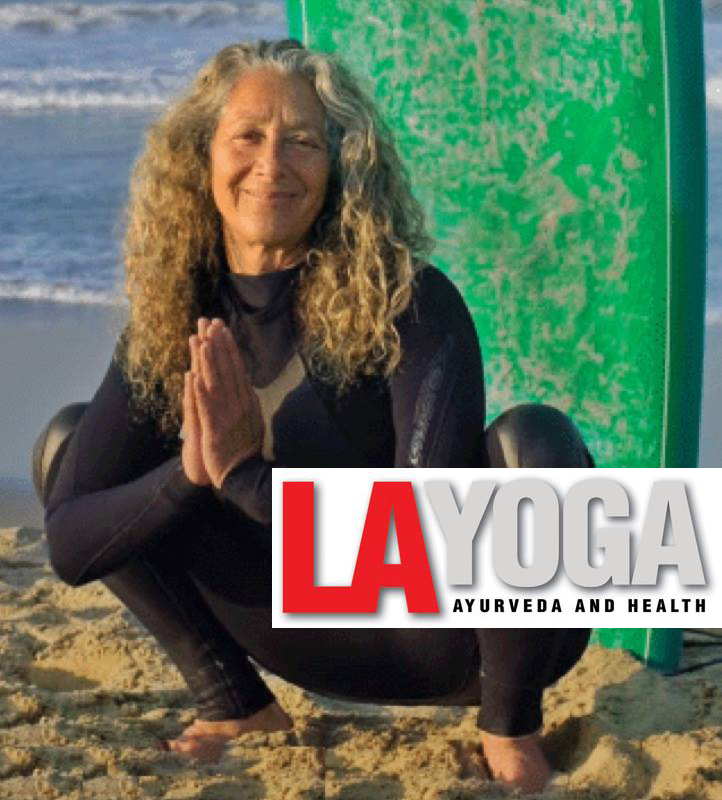 Warning! Sitting may be hazardous to your health! Reclaim your squatter's rights, join the squatting movement!
 
Encapsulating the life of Denise Kaufman within the confines of a magazine page is a task about as daunting as fitting the entire population of New York City into a phone booth...

After giving birth, Madonna enlisted Los Angeles-based yoga teacher Denise Kaufman for private lessons in Ashtanga yoga, a very physical brand of yoga known for its flowing postures.
 

I've been a member of Denise's Yin tribe for the past 12 years, and have completed multiple teacher trainings in Yin Yoga. I have not found a single Yin teacher like Denise. —E.H.


Denise is unique because she is an empath and a healer at her core. And that comes through in her teaching, in her practice, in her life. Taking her class for the first time was a transformative experience. —E.K.

There is yin yoga, which is healing and restorative, and available. And there is Denise Kaufman. There is only ONE Denise Kaufman. To experience HER yin yoga is to experience something life-altering. —G.N.

Denise's Yin classes go deep. In her classes, Denise balances out our busy fast-paced culture, guiding her students to cultivate liberation and contentment. She focuses on her students' unique individual experiences, not some idealized concept of what yoga should be. Best of all, the journey is fun thanks to Denise and the amazing devoted souls she attracts to her community. —A.H.


Those of us who have long practiced under Denise Kaufman's expert guidance have come to call her The Goddess of Yin. Denise can take a room full of buzzing type-A Angelenos and ease us gently into silence and deep relaxation. When we finally peel ourselves off the floor, we are transformed. It never fails. Denise is the Master. —L.S.